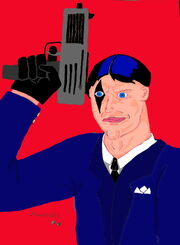 The Carnival of Fear is a team of assassins that work under guise of varied forms of entertainers. They most commonly appear through sideshow acts and stage routines.
The Carnival is in high demand amongst assassins on Earth and widely considered the best in the world.
The leader of the team, Showmaster, is always on the lookout for new talent, even if expendable.
The Carnival has several hideout locations, mostly on uncharted or small islands with little if any human life. Hideouts are built underground and are filled with deathtraps for invaders. They have bee known to appear near Hawaii, Jamaica, and New Zealand. The Carnival is on a "do not approach" list for standard law enforcement due to heavy casualities in attempts to capture.
Members of this team are:
Community content is available under
CC-BY-SA
unless otherwise noted.