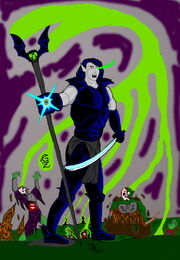 Real Name: Cedric Mourningale
Height: 6ft 0in
Race: Tall Elf/Vampire
Cedric was stationed with his troops at a Gray Elf camp during the Elven/Vampire war. They fell under a heavy attack and Cedric was the only one to survive, having been turned vampire by the general who killed all his men. The Elven council at the time decided that Cedric was treasonous and sealed him away in oubliette for his supposed crimes of treason including becoming a vampire.
The oubliette was within a temple built to guard the Ring of Reality. When Cedric was released eons later by Lomar of the Draecous, Cedric took the ring to assist with his path of revenge. The ring allows him to alter reality at will, but his imagination in using it is stunted by his rage. Cedric has sworn that he will kill any Elven forces he finds and especially any Elven council members or Kings. He has so far found all those who voted on his imprisonment and killed them.
Along with the abilities of a Vampire, Cedric carries artifacts that help him in even darker ways. His darkheart lance can raise an army of undead to fight for him and his Katana of Mourning is an armor piercer that can slice at a distance. He has a vast collection of spells allowing him to use spell blasts of mystical energy and to protect himself in any environment (even space). Cedric is a bloody killer who has no problem ravaging anything or anyone for their blood.
Cedric holds no love for other vampires either and many that he's met are scared of him now.
Cedric's Galaxy Zento Stats are: STR: 5 END: 4 SPE: 5 AGL: 4 MNT: 9
Community content is available under
CC-BY-SA
unless otherwise noted.